Wild Fire (Wilding Pack Wolves 5) – New Adult Paranormal Romance Review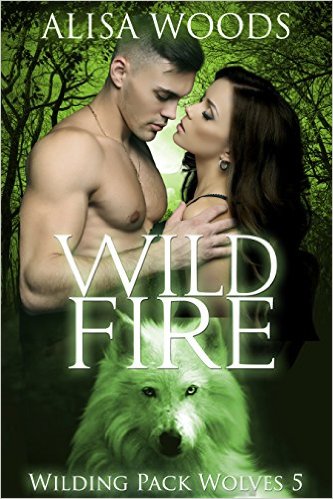 Zoe Wilding is a genetic researcher with a secret she'd rather not have—she's a white wolf—but with Agent Smith's immorally-acquired experimental data on shifters, that may change. If she can just isolate the gene that expresses her dangerous white wolf, she'll finally have a normal life. One that might include a man, if not a mate.
Then her lab blows up.Troy Hartman is a firefighter and EMT who fought his way out of the shifter gangs as a kid. He's been watching the Wilding family in the news as they battle the Wolf Hunter, and he's been itching to join the cause. When the Wilding research facility gets firebombed, he's first on the scene… and first to rescue a beautiful blue-eyed white wolf.
Only this is no ordinary shifter.All five of the Wilding families have now been targeted by the Wolf Hunter, and the entire cadre of white wolves—Grace, Noah, Kaden, Owen, and now Zoe—have joined together to find him. Troy's all-in with Daniel Wilding for the hunt, but the closer Troy gets to Zoe, the more his wolf wants her… only she's hell-bent on destroying the magic inside her. Can he win over this gorgeous girl and get her to accept the beauty of her inner wolf… or will finding the Wolf Hunter destroy the wild fire inside the woman he's starting to love?
WILD FIRE is a complete novel with HEA, the FIFTH AND FINAL in the Wilding Pack Wolves series. All stories are standalone, but for maximum reader enjoyment, start with the River Pack Wolves trilogy. Contains scorching hot shifters, alpha heroes, and sexy witches. Only readers over 18 should dive into the dangerously hot world of the Wilding Pack Wolves.
Check Out What Readers Said about Kindle/eBook!
"I can not express words. I am sad that the series is ending. But, I loved it so much. Zoe and Troy are amazing together. There where twist was not expecting when it come the mayor. I cried so much and at times it was happy tears. I could not put it down and I can not wait to see her new series." By AJohnson072007
"What a great ending to the Wilding Pack series!!! This was such a wonderful book that rounded out the series so well, to find out the who's who, and for the unexpected love to find for several of the character's and to see them all be happy in the end. To have one struggle for so long thinking her wolf was like the evil of all evils, and wanting to try and get rid of it. For the strength and love that is given for her to learn that all is not as bad as she has feared and to find her love that opens her up to so many possibilities. Having the past reveiled in a way that was so twisted, and find the one thought to being responsible for it all. Lots of suspense intrigue and romance.
Would love to say more but then I would be putting out spoiler's and I don't want to spoil the book for ya, so grab a copy, it's free with KU." By Cindy Sharber
Product Details
Author: by Alisa Woods
Kindle Price: $0.99
File Size: 926 KB
Print Length: 180 pages
Simultaneous Device Usage: Unlimited
Publisher: Sworn Secrets Publishing (March 31, 2016)
Publication Date: March 31, 2016
Language: English
ASIN: B01DQ1G13Y
Text-to-Speech: Enabled
X-Ray: Not Enabled
Word Wise: Enabled
Lending: Not Enabled
Enhanced Typesetting: Enabled
Amazon Best Sellers Rank: #673 Paid in Kindle Store