Dukes In Disguise Review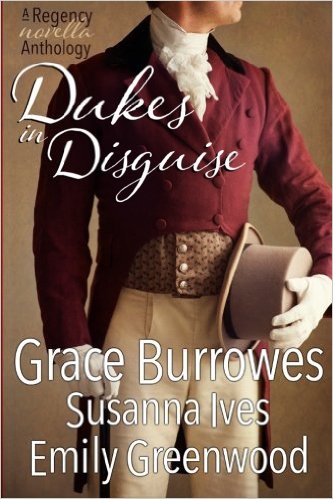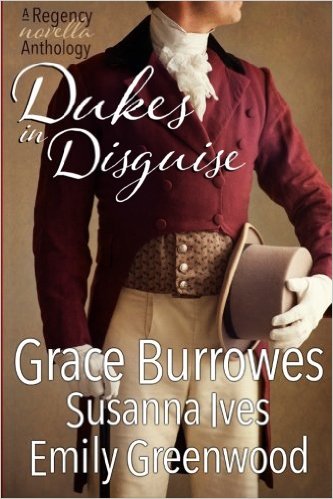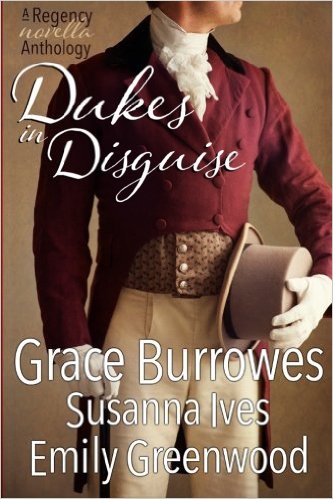 Grace Burrowes, Emily Greenwood, and Susanna Ives team up to bring you three Regency novellas, each featuring a young, wealthy duke who must spend two weeks masquerading as a commoner in the bucolic backwater of Lesser Puddlebury. Disaster will rain down if their graces' titled status become public knowledge. Fortunately for our heroes, true love is no respecter of rank.
His Grace of Lesser Puddlebury by Grace Burrowes
Connor, Duke of Mowne, has been injured in a most delicate location, and needs a place to heal far from the eyes of Polite Society. When he takes refuge with the independent and impecunious Julianna St. Bellan, he suspects his wound was in truth caused by Cupid's arrow!
Duchess of Light by Susanna Ives
In a tangle of lies and disguises, a brokenhearted duke and a desperate miss find truth in love.
Kiss Me, Your Grace by Emily Greenwood
Rowan, Duke of Starlingham, thinks love is for fools, though when he arrives at his hunting box to find an alluring but puzzlingly uncooperative woman pretending to be his cousin, he realizes he may be a victim of the most absurd malady of all: love at first sight.
Check Out What Readers Said about Kindle/eBook!
"Three fun and very well written novellas. All three stories take place during the same two week time period in the same general location but each story focuses on a different duke in disguise and they have their own unique tale to tell. I highly enjoyed all three novellas in this collection and I would definitely recommend this anthology, although, I will be honest in saying a couple of the stories stood out a little bit more than the other." By S.M.R.
"Three dukes in the same backwater village pretending to be below their station — what could possibly go wrong? I greatly enjoyed this trip into the rural hamlet of Lesser Puddlebury and getting to know the Sun, Moon, and Stars. Each author acquitted herself well, Burrowes with elegance, Greenwood with charm, and Ives with a subversive wit that you have to be an astute reader to catch. I agree with the former reviewer — I would love for these dukes and ladies to have a reunion, and I would love to be there for it. Highly recommended." By M. LaRue
Product Details
Author: Grace Burrowes
Kindle Price: Paperback $6.29
Paperback: 268 pages
Publisher: Grace Burrowes Publishing (March 11, 2016)
Language: English
ISBN-10: 1941419275
ISBN-13: 978-1941419274
Product Dimensions: 6 x 0.7 x 9 inches
Shipping Weight: 1 pounds
Average Customer Review: 4.0 out of 5 stars
Amazon Best Sellers Rank: #24,327 in Books